Eye Disease Diagnosis & Treatment
Diagnosis and treatment for common eye diseases.
The surprising truth about eye disease is that there are often no symptoms early on.
Only your eye doctor can detect eye diseases at an early stage when there is a better chance to develop an effective disease management plan.
How are these Eyes Diseases detected?
Dilated eye exams allow your eye doctor to look at your retina so they can check for changes associated with AMD (Age Related Macular Degeneration), Diabetic Retinopathy, Glaucoma , and until recently, those exams were the only tool eye doctors had to detect this disease.
Today, there are more advanced computer-based options that enable your eye doctor to identify the very earliest signs of these common eye diseases and conditions. At Maison Optique Optometric Center, we offer the following latest technology in eyecare
Optovue OCT
OCT (Optical Coherence Tomographer) which uses ultrasound to scan the deep layers of your retina to find signs of early eye disease, such as Macular Degeneration, Diabetes and Glaucoma, at the earliest stages of development. This technology helps our doctors give your eyes the best health care possible. The scan takes less than a second, and it's completely noninvasive.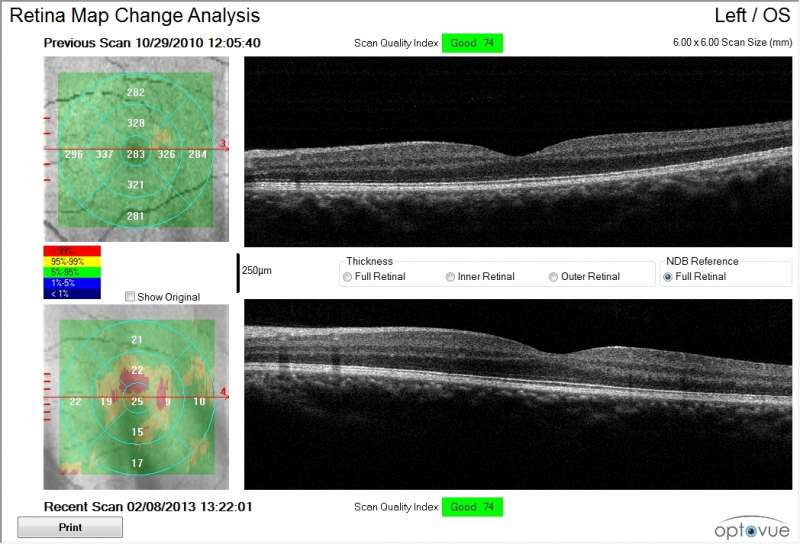 Optos Optomap
Optomap uses special scanning technology to capture detailed images of your retina. With Optomap technology, your eye doctor can see as much of the retina as possible, including the central and peripheral areas where the first signs of AMD, Diabetes, and Glaucoma are most likely to occur. Plus, Optomap provides a 3D ultra-widefield retinal image, which provides an unmatched 200 degree view of the retina in one panoramic. The scan takes less than a second, and it's completely noninvasive.


---
Don't delay — early detection is key. Schedule an appointment at Maison Optique Optometric Center today.
What are the most common ocular diseases?
There is a large range of eye diseases and conditions. Here are the most common —